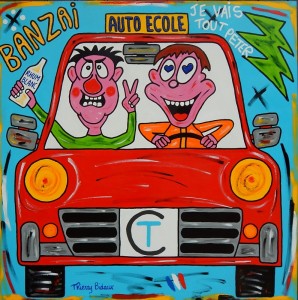 Hello, my name is Thierry Bidaux.
I'm born on the 28th of July 1964. I am married and father of two beautiful children. I would have liked to say that my career had began ten years ago after studying art history, fine arts in Paris for three years, then two more years at the college of applied Arts in Bordeaux.
But this is not the case.
Different events of life brought me to painting about 3 years ago.  I'm a true autodidact, with no real predestination to drawing and sketching, or even painting. I just felt a real need to express myself. A great need for me to unwind; express this strange feeling which has grown during fifteen years of hard life due mainly to serious health problems of my son.
Expressing through painting is partly unveiling your interiority. Mine was in such bad shape, so dark, that it was really time for me to take care of it by coloring it and sharing it with all of you.
I think I have succeeded, at least in terms of colors.
That is really after the fifth or sixth that my canvas have been literally taken away from me by my friends or family while there were still wet from painting.  I have then started to realize that people were interested in them.
So, why hesitate; knowing the pleasure for me to paint, to share my happiness, and satisfaction to see them going to people homes all around the country.
And like this, canvas after canvas, exhibition after exhibition, I'm making my own way.
My work is spontaneous, and naïve, but rich of vibrant colors, it gives warmth and joy to different scenes of life.
It is also possible to suggest me a theme and I will let you whether or not I feel confident and inspired for investing time to realize it.
I owe my attraction to painting from people like Picasso, Keith Haring, ROYO….
Throughout my learning and experience I try to state my style in different directions. I paint mostly on canvas, I also use other techniques such as knife painting, collage, plaster, etc. ..
Don't try to become a man looking for success. Try to become a man looking for human value.